Kimberly Senior is a freelance director and the director of the 2013 Pulitzer Prize winning play Disgraced by Ayad Akhtar. Most recently Kimberly made her HBO debut with Chris Gethard: Career Suicide, which premiered at the Tribeca Film Festival. Kimberly was awarded the prestigious Alan SchneiderAward at the 2016 TCG Conference. She is also a 2013 Finalist for the SDCF Joe A. Callaway Award. She is the recipient of the 2016 Special Non-Equity Jeff Award for her Chicago career achievements as a trail blazer, champion and role model for emerging artists.

In Chicago, Kimberly is a Resident Director at Writers Theatre and an Associate Artist at TimeLine Theatre. Her work has received multiple Joseph Jefferson nominations. Kimberly founded Collaboraction Theatre Company in 1997, spent ten years as an associate artist at Strawdog Theater, eight years as an associate artist at Chicago Dramatists, and six years as an associate artist at the much beloved Next Theatre. In addition, Kimberly served as the first board president of The Hypocrites many years ago.

As an educator, Kimberly spent ten years as both an administrator and Resident Artist with Steppenwolf for Young Adults. In addition, Kimberly either ran programs or taught for Court Theater, Northlight Theater, Redmoon Theater, Roadworks Productions, Victory Gardens, Metropolis, Act One Studios, and Acting Studio Chicago. She served as adjunct faculty at Columbia College where she teaches Chekhov, Dramaturgy and Text Analysis. Kimberly has also taught numerous classes at DePaul University and University of Chicago. She is the recipient of Columbia College's 2010 Excellence in Teaching Award. Kimberly has served as Program Director and as a dramaturg for Steppenwolf's First Look Repertory of New Work and continues to develop new plays with the Ojai Playwrights Conference.

Kimberly is the incredibly proud mother of Noah (9) and Delaney (7). She is a member of SDC.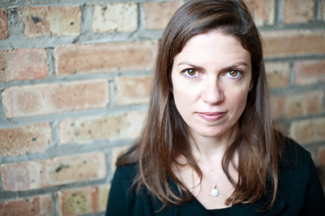 Photo by Brandon Dahlquist
New York Credits:
Disgraced
(Broadway);
Chris Gethard: Career Suicide
(Judd Apatow presents);
The Who and The What
, and
Disgraced
(Lincoln Center Theater 3).
Chicago Credits:
Support Group for Men
,
Disgraced
, and
Rapture, Blister, Burn
(Goodman Theatre);
The Scene
,
Marjorie Prime
,
Diary of Anne Frank
,
Hedda Gabler
, and
The Letters
(Writers Theatre);
Discord
,
4000 Miles
, and
The Whipping Man
(Northlight Theatre);
Want
, and
The North Plan
(Steppenwolf);
Inana
,
My Name is Asher Lev
,
All My Sons
, and
Dolly West's Kitchen
(TimeLine Theatre);
The Great God Pan
,
After the Revolution
,
Madagascar
,
The Overwhelming
, and
The Busy World is Hushed
(Next);
Waiting for Lefty
(American Blues);
Old Times
,
The Conquest of the South Pole
,
Uncle Vanya
,
Cherry Orchard
,
Three Sisters
,
Fuddy Meers
, and
Knives in Hens
(Strawdog);
Cripple of Inishmaan
,
Bug
, and
The Pillowman
(Redtwist Theatre);
Thieves Like Us
(The House Theatre); among others.
Regional:
Other Than Honorable (Geva); Sex with Strangers (The Geffen Playhouse); Disgraced (Mark Taper Forum, Berkley Repertory Theatre, Seattle Repertory Theatre); The Who and The What (La Jolla Playhouse); Little Gem (City Theatre); Games Afoot, Murder on the Nile, and A Few Good Men (Peninsula Players); Mauritius (Theatre Squared, Fayetteville, AR); Film/TV: Chris Gethard: Career Suicide (HBO); Upcoming: The Niceties (CATF); Discord (Primary Stages); Sheltered (Alliance); Buried Child (Writers Theatre); Support Group for Men (Goodman).